March 22, 2022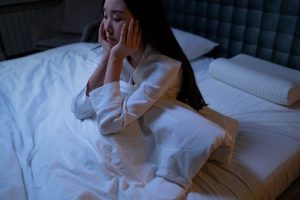 Many people underestimate the importance of a good night's rest. Sure, a strong cup of coffee or an afternoon nap can help combat fatigue, but it can take a toll on your health and quality of life. While it's normal to have a bad night occasionally, ongoing fatigue can be a sign of more than a bad mattress. If you're not getting up in the morning feeling refreshed, your stages of sleep are likely being interpreted, but by what? Unfortunately, it can indicate a serious underlying problem, like sleep apnea. 
Quality Sleep is Crucial
Adults should get 7 to 9 hours of sleep each night to allow the body to rest and regenerate to be ready for the next day. For this to happen, you must go through all stages of the sleep cycle, which include:
Stage 1 and 2: Light Sleep
As you lay down for the night, you enter the first stage of the cycle, which is where your eye movements begin to slow down. Outside stimuli easily interrupt this stage, but within a few minutes, you drift off to the second stage.
Stage 2 is considered light sleep. Your brain produces sleep spindles, which are special waves that protect against awakenings. This can take up to half of the entire sleep cycle.
Stages 3 and 4: Deep Sleep and REM Sleep
Deep sleep is the third stage, which means you are harder to wake up. This stage is crucial because it allows your body to repair any tissues or muscles that have been damaged during the day. Cytokines are also produced to support your immune system and restore your energy.
Eventually, you enter REM (rapid-eye movement) sleep. As the name suggests, your eyes will jerk in various directions and your heart rate will increase. Your blood pressure will also rise and your breathing will slow, allowing your brain to absorb the information from the day. It is also the stage where dreaming occurs.
Interruptions to the third and fourth stages can affect your physical and mental health. Not to mention, the persistent fatigue can make it difficult to make it through the day feeling your best.
Effects of Untreated Sleep Apnea
Obstructive sleep apnea is a common cause of ongoing fatigue. It's a condition that causes various pauses in breathing while sleeping from an obstruction in the upper airway. The frequent depletion of oxygen can have serious consequences for physical health, but that's not the only concern. Each time you stop breathing, your brain jolts you away, interrupting the sleep cycle. This can lead to sleep deprivation without the right treatment.
Thankfully, your dentist can help you breathe easier and sleep soundly with oral appliance therapy. You'll invest in your general health and overall wellness to feel your best as soon as your feet hit the floor in the morning.
About Dr. Bernard L. Greenbaum
Dr. Greenbaum earned his dental degree from the Georgetown University School of Dentistry and has completed advanced training in many specialties, including sleep apnea therapy. Contact our office today to request your consultation for an oral appliance.
Comments Off on Is Sleep Apnea the Reason You're Tired?
No Comments
No comments yet.
RSS feed for comments on this post.
Sorry, the comment form is closed at this time.