April 8, 2022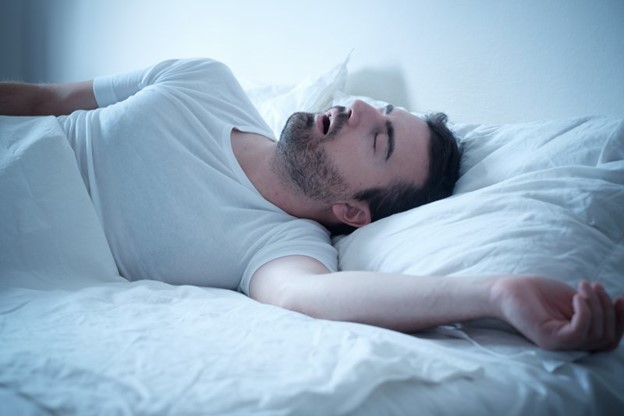 Every night, millions of people miss out on countless hours of sleep due to sleep apnea; and even worse, many more cases go completely undiagnosed! But what causes this condition and why is it so prevalent? In reality, there are many factors to consider—but among them is weight gain. In fact, weight gain and sleep apnea share a very curious connection that's much more complex than you might realize. Keep reading to learn more from your sleep dentist about this correlation and what you can do to help keep your weight and your sleep apnea under control.
How Weight Gain Can Cause Sleep Apnea
Obstructive sleep apnea, the most common form of sleep apnea, occurs due to blockage in the airway during sleep. This blockage can stem from many different factors, but a couple of them have to do directly with weight:
Fat deposits in the neck can obstruct the airway – Your airway relaxes during sleep, so if you have excess fat around your neck, you're putting excess pressure on your airway which makes it more likely to become blocked!
Excess body fat can decrease lung capacity – Excess fat around the torso can compress your chest wall, giving your lungs much less room to expand and increasing the likelihood of upper airway collapse during sleep.
How Sleep Apnea Can Contribute to Weight Gain
Unfortunately, sleep apnea can also contribute to weight gain, just as weight gain can contribute to sleep apnea! Here's how the condition can lead to you gaining weight:
Lack of sleep affects your appetite – Sleep helps to regulate the hormones in your body that affect your appetite, cravings, and how full you feel. That said, without enough sleep you might find it difficult to eat enough, or in some cases, stop eating.
Fatigue makes it tough to exercise – If you're feeling exhausted throughout the day, you might not have the energy to exercise and manage your weight.
Tips for Improving Your Quality of Sleep and Life
Sleep apnea and weight gain present us with a chicken-and-the-egg type scenario; it's difficult to determine which is causing the other, since they're both so closely connected. That said, you can improve the quality of your sleep and your life by considering the following:
Consult a sleep dentist to undergo a sleep test and receive a sleep apnea diagnosis. This can lead to treatment such as oral appliances or CPAP machines.
Address other causes of sleep disruption including bedroom lighting, loud noises, distractions around bedtime, mental health, etc.
Try to maintain a healthy weight by regularly exercising and eating a healthy, vitamin-rich diet.
Sleep apnea isn't something that you should have to live with—sleep is too important to neglect! That said, if you aren't able to take care of your body, it might be difficult to get enough sleep; and vice versa! Talk with your sleep dentist if you're concerned about how sleep apnea might be affecting your sleeping habits and weight gain.
About the Author
Dr. Bernard L. Greenbaum received his dental doctorate from the Georgetown School of Dentistry and has proudly served patients and families in Bethesda for over 25 years. Dr. Greenbaum is a member of several professional organizations including Fellowship status with the prestigious Academy of General Dentistry. His practice is pleased to offer many available services including sleep apnea therapy. To schedule a visit, feel free to reach out online or over the phone: (301) 530-0552.
Comments Off on The Curious Connection Between Weight Gain and Sleep Apnea
No Comments
No comments yet.
RSS feed for comments on this post.
Sorry, the comment form is closed at this time.